Another activity that I found from: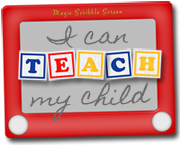 This one is a scavenger hunt. I changed a few things to better suit Karson's interests.
I started out by listing some items outside that I knew Karson's could find in our neighborhood. I "tried" drawing a picture of each item because of course he can't read yet. He actually could tell what my drawings were and was really excited when he figured each item out.
We had rocks, pine cones, a leaf, a stick, and a nut.
After I made sure he knew what each of the items were on our paper we set outside. He quickly knew the rocks were in our driveway.
(Sorry for the lack of shirt and cotton shorts. It was a 98 degree day)
Next up were the pine cones. He knew they were near his friend Lexi's house so off he went running down the road right to the pine cones.
Then we found the leaf, the stick, and a nut.
He had all of his items in the bucket. It was so funny to watch Karson run to the different places around the neighborhood. He knew right where he could find each item.
After finding all the items we went inside to put them on our graph in the different categories.
The end result. I did have to help him a bit for the graphing part but not bad for a 2 year old.
He had a great time! He loves the outdoors so this was ideal for Karson.
Hope you can use this activity too!
A picture of my sweet Kip just to keep things fair :)